Tradition:
Keeping Traditions Alive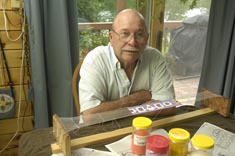 Some artists and their communities place high value on adhering to family or group traditions, preserving them—and the way of life they represent—for the next generation.

The processes, tools, materials, designs, motifs, and functions are closely followed, as they have been through time. As time passes, some changes may occur, but the pursuit of tradition as a family and community value remains important.
Case Study
Swartzentruber
Amish Quilters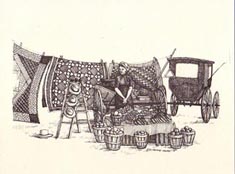 Contrary to reports written by several authorities on quilting in America that traditional Amish quilting patterns and colors had disappeared by the 1930s, Amish women and girls in the ultra-conservative Swartzentruber Amish communities in the Depeyster, Heuvelton, and Nicholville areas of St. Lawrence County are very actively making quilts in such patterns for family and for sale. Moreover, North Country Amish women supply quilts to the larger, better-known Amish settlement in Lancaster County, Pennsylvania, quilting pieced tops (paid a set fee for each yard of thread used) and sending them to Pennsylvania for sale to tourists at large quilt outlets. Traditional family quilts can be spotted on clotheslines on wash days at local Amish homesteads; quilts in bolder colors and more inventive patterns are often available for sale at roadside farm stands and local markets.
These quilts meet color and pattern guidelines for use in a Swartzentruber home. The first two are crib size, generally used by "English" customers as wall hangings, in traditional patterns. According to their community's Ordnung, or unwritten book of rules, all the colors would be suitable to use in garments they wear. The small strip quilt was a practice piece for a 16-year old girl, giving her an opportunity to learn about piecing a top with a traditional pattern and about stitching a quilt.
Trip Around the World
Anonymous, Heuvelton area, ca. 2000
Courtesy of Karen Johnson-Weiner

Zig Zag
Anonymous, Heuvelton area, ca. 2000
Courtesy of Karen Johnson-Weiner

Strip Quilt
Anna Shetler, Depeyster area, ca. 1993
Courtesy of Varick & Judy Chittenden
Mohawk Cradle Board
Bill Loran, Akwesasne, 2010
Courtesy of the Artist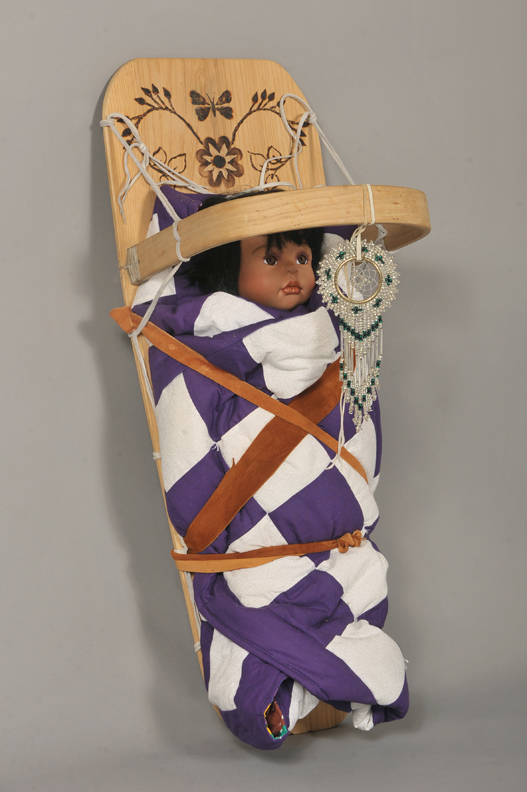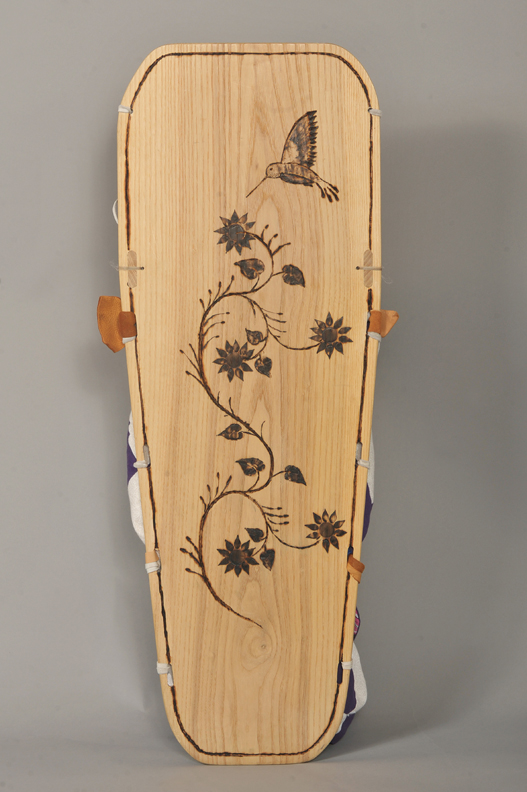 In traditional Iroquois (Haudenosaunee) culture, much of an infant's first year was spent on a cradleboard. Mothers carried babies on their backs by means of a strap over their foreheads that was fastened to the board. This board is built and decorated in the traditional manner, including a shiny trinket hanging from the crosspiece for the baby's entertainment. Note the decoratve carving front and back, including the hummingbird, symbolically providing food for the young.
Three-Tiered Whittler's Whimsy
Unidentified artist, Clinton County, date unknown
Courtesy of the Clinton County Historical Association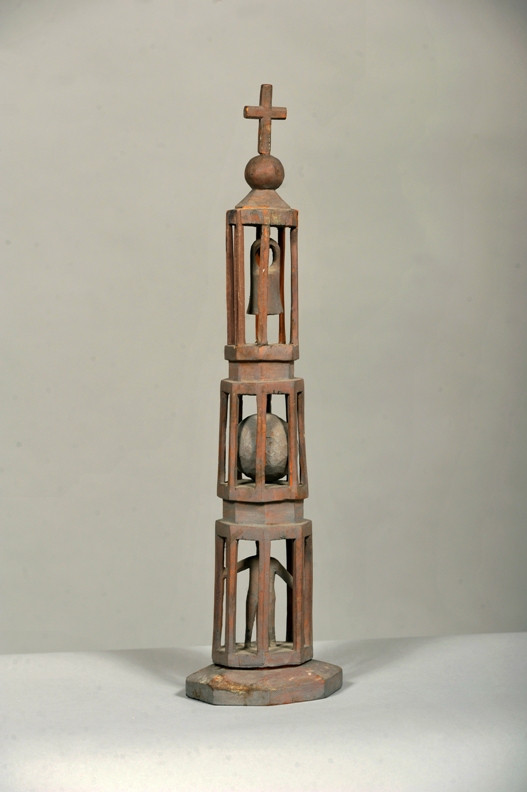 This three-tiered whimsy is by an unidentified artist in a style of whittling that remains popular among carvers today. Carving from one piece of wood, usually pine or basswood, the whittler carefully removes pieces from the outside going in, releasing first the cage and, little by little, the object inside. This example—with a ball, a human figure, and bell—is particularly well done. The cross finial indicates it was probably made by or for a Roman Catholic in the Champlain Valley, quite likely from Quebec, where such carving is a long-standing tradition.
Mohawk Gustoweh
Jeff Whelan, Akwesasne, ca. 2005
Courtesy of Adirondack Museum
A traditional feathered cap worn by Haudenosaunee men for ceremonial occasions, the construction and materials varied for each of the nations of the Confederacy, making the wearer's identity easily identifiable.
This gustoweh is made with wild turkey and partridge feathers and one upright eagle feather. A chief's version includes a pair of buck antlers.
Buff Mittens
Mrs. Frank Fuller, Adirondacks, date unknown
Courtesy of Adirondack Museum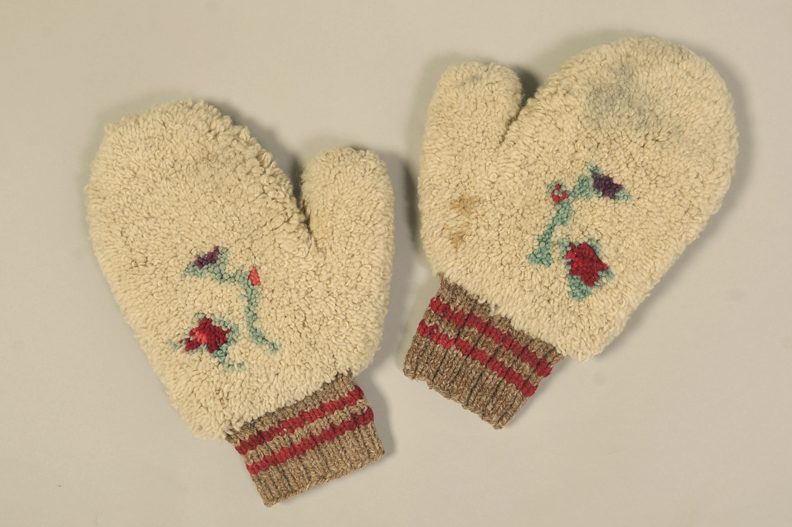 Carpet-like mittens like these were once used in the Adirondacks to keep men's hands protected from winter cold when they worked in the woods. Buff mittens are made with two strands of yarn; one strand is knitted, the other carried along and knotted around each knitted stitch to form a loop. When the mitten is completed, the loops formed by the second strand are cut open and brushed out to create a shaggy pile.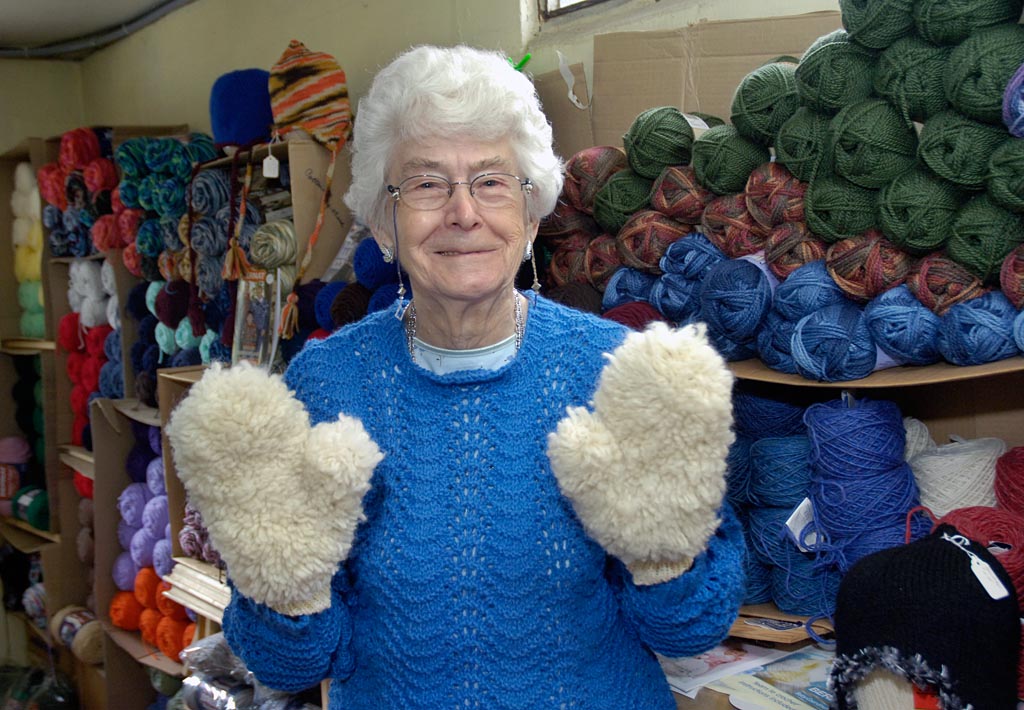 This pair was particularly well made, with tight loops of wool that make a neat, tight pile that was bound to be warm. The photo (click to enlarge) shows the late Annis Holmes of Chestertown, one of the last Adirondack buff knitters to practice the craft, with a pair of mittens she made in 2007.
Iroquois Clay Pot
Roger Perkins, Akwesasne, ca. 2000
Courtesy of Elizabeth Perkins
After studying shards of pottery found in Haudenosenee sites at Akwesasne and elsewhere, Roger (Sosakete) Perkins has revived and single-handedly carried forth a 4,000-year-old ancient art form. Raw clay is gathered from the earth and an offering is made. The clay is then cleaned and various tempers are added. Each pot is hand-pinched, coiled, and fired in an outdoor pit, using hardwoods that leave a smoky finish. Etch marks are incised to insure the pots are slip proof or as a method to identify clans. Originally, a pot like this—often much larger—was used for cooking, suspended over a fire with a rawhide lace tied around the depression in its side.
Bird Tree
Will Queor, North Lawrence, ca. 1980
Courtesy of Varick & Judy Chittenden
Centuries ago St. Francis of Assisi is said to have quieted a small flock of birds in a tree in Umbria while preaching to his followers. The image of a tree full of birds has been a popular theme for artists since. Traditional carvers sometimes create a bird tree like this one, even if they're not really aware of the ancient story. Such a tree offers the opportunity to display several examples of the carver's work at once. A retired woodsman and mechanic, Will Queor was a prolific carver in the last years of his life, making a variety of animal and human figures with a simple jackknife and found wood.